Half/Fullday Sight-seeing Tours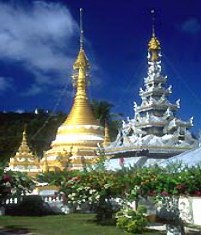 CITY & TEMPLE TOURS
HALFDAY TOUR: Morning: 08.30hrs. - 12.00hrs. Afternoon: 13.30hrs. - 17.00hrs.
Chiangmai, "Flower of the North or Rose of the North" was found in AD.1296 and today remain the second largest city in Thailand. This tour is planed as an introduction of the Northern culture and life style of local people. Visit WAT CHIANGMAN (AD.1297), the oldest temple within the city walls. Drive through many different part of the Northern capital, passing residential areas, notable foreign establishments, handsome government buildings. Chiangmai is now launched to be a duty free city by the Government where you can buy and shop local products, clothes, neck-tie, perfumes, electric products and etc.
MEO HILLTRIBE VILLAGE & WAT PHRATHAT DOI SUTHEP
HALFDAY TOUR: Morning: 08.30hrs. - 12.00hrs. Afternoon: 13.30hrs. - 17.00hrs.
Visit a quant and picturesque Meo Hilltribe Village set in an attractive hillside spot and see the Meo tribesmen dressed in their colourful traditional customs. The tour also takes in WAT PHRATHAT DOI SUTHEP (3,520 feet above mean sea level). The magnificent stairway leading to the temple. The pagoda style temple and the bird's eye view of Chiangmai.
HOME INDUSTRIES
HALFDAY TOUR: Morning: 08.30hrs. - 12.00hrs.
The silk and cotton weaving local industry at SANKAMPAENG district, the umbrella village where you will observe how deft fingers transform banboo, silk and paint into beautiful umbrella and learn the skills invloved in wood carvings, celadon firing ceramic and the making of lacquer, silverware and gems gallery

MAE HONG SORN DAY TOUR
FULLDAY TOUR: Daily: Morning 09.00hrs. - 18.00hrs. (Lunch included)
Departing from Chiangmai for Mae Hong Sorn by TG190 dep.10.00hrs. arrive 10.40hrs. Arrive at Mae Hong Sorn, transfer to Shan Village for taking a boat along Pai River for 1 hour to Long Neck Karen or Pa-Dong Village whose women are famous for their extraordinary practice of stretching their necks with high collars of metal spiral, they are known as the Long Neck Tribe. Afterthat, lunch at local restuarant. After lunch, we are going by car to visit WAT PHRATHAD DOI KONG MOO, the old burmese temple in Mae Hong Sorn and also WAT JONGKAM. Then departing Mae Hong Sorn for Chiangmai by TG197 dep. 16.50hrs. arrive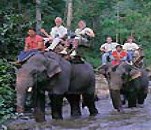 ELEPHANTS AT WORK, ELEPHANT RIDING & RAFTING SAFARI, ORCHID FARM & MEO HILLTRIBE VILLAGE
FULLDAY TOUR: Daily: Morning 08.30hrs. - 17.00 hrs. (Lunch included)
See elephants at work in a jungles area, hauling logs, and other displays. Elephant riding and bamboo rafting, visit a quant and picturesque MEO HILLTRIBE VILLAGE. On the way back to town visit ORCHID FARM, see the fantastic wild orchid collection.
CHIANGRAI/CHIANGSAEN/THE GOLDEN TRIANGLE/MAE SAI
FULLDAY TOUR: Morning 07.00hrs. - 19.30hrs. (Lunch included)
Full day excursion to Chiangrai (approx. 4hrs. by air-conditioned van or car). Chiangrai is situated at highest point of Thailand. Visit Chiangsaen, the old capital of Lanna Kingdom. Visit the Golden Triangle and Mae Sai which is the Northest town and further to Thai-Myanmar border lines. If time allow the visit of hot sprint will be added.
PHU-PING PALACE & WAT PHRATHAT DOI SUTHEP
Every Fri/Sat/Sun and Local public holidays
HALFDAY TOUR: Morning: 08.30hrs. - 12.00hrs. Afternoon: 13.30hrs. - 17.00hrs.
WAT PHRATHAT DOI SUTHEP is one of the most sacred temple in the North tucked away in the mountain at 3,520 feet. PHU-PING PALACE, their majestics' winter palace (4,300 feet) and see the delightful garden.
Note: On the day when PHU-PING PALACE is not opened, WAT JED YOD will visit.
KHANTOK DINNER & HILLTRIBE SHOWS
Daily: Evening 19.30hrs. - 21.45hrs.
An evening of experience with Northern fold dancings featured FORN LEB (nail dance), SWORD DANCE, FORN THIEN (candles dance) and THE RAMWONG (nation-wide dance). After typical Northern dinner being served during the show. There will be a special hilltribe show featuring the virous tribes of the North.